It's day one of my 3-day cleanse which started with a 2.5 mile walk on July 4th. What a perfect day to celebrate freedom from toxins! Instead of focusing on what I won't be eating, I'm focusing on the benefits such as mental clarity, focus and increased energy.
I prepared my body by eliminating meat and increased my consumption of fresh, raw organic fruits and vegetables. If you consume alcohol, caffeine or dairy on a regular basis, I  would eliminate these products a few days before as well. Except for an occasional (organic) ice cream, I swore off these vices years ago. However, with dark chocolate, I still have issues!
I typically make my own juices but due to time constraints and the fact I sold my juicer a few years back (in lieu of a Vitamix), I purchased the organic juices from a local company called Sunshine Juice. I'm not being paid to endorse their products, I just wanted to share my experience with others. Their cleanse consists of seven juices per day which you consume every two hours.
It's been several years since my husband and I fasted. He is a great support as he offered to join me...with modifications (as he tossed the pound of grass-fed beef back in the freezer). His modified liquid diet will consist of using our favorite plant-based powder, Juice Plus Complete, with almond milk. We've used the shakes for several years (love them) and this is what I will transition to prior to starting back on whole food.
I remember how much fun with had with it last time as we started to get a little slap happy around the second and third day. Watching television wasn't a good idea as we realized almost every commercial promoted food! Even though most of it isn't stuff we would ever eat, it all started to look good. We decided that reading was our best bet and I spent lots of time in prayer and meditation.
For me, this isn't about weight loss, although I put on a few extra pounds over the winter. Cleansing is more for the emotional and spiritual aspects of my life. Spending time with my creator without distractions is my ultimate goal.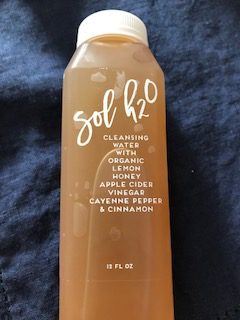 https://brenewed.com/wp-content/uploads/2013/07/brewnewed-new-logo.png
0
0
Bonnie Schnautz
https://brenewed.com/wp-content/uploads/2013/07/brewnewed-new-logo.png
Bonnie Schnautz
2017-07-04 08:45:09
2017-07-04 08:45:09
My 3-day Cleanse Journey