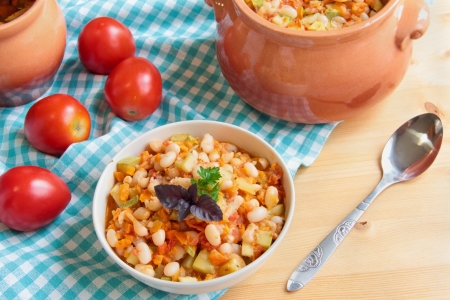 Summer Squash and White Beans Saute
Ingredients:
1 tablespoon Extra Virgin coconut oil
1 medium onion, halved and sliced
2 cloves garlic, minced
1 medium zucchini, halved lengthwise and sliced
1 medium yellow summer squash, halved lengthwise and sliced
1 tablespoon chopped fresh oregano, or 1 teaspoon dried
1/4 teaspoon salt
1/4 teaspoon freshly ground pepper
1 15- or 19-ounce can cannellini or great northern beans, rinsed (see Tip)
2 medium tomatoes, chopped
1 tablespoon red-wine vinegar
1/3 cup finely shredded Parmesan cheese
Preparation:
Heat oil in a large nonstick skillet over medium heat. Add onion and garlic and cook, stirring, until beginning to soften, about 3 minutes. Add zucchini, summer squash, oregano, salt and pepper and stir to combine. Reduce heat to low, cover and cook, stirring once, until the vegetables are tender-crisp, 3 to 5 minutes.
Stir in beans, tomatoes and vinegar; increase heat to medium and cook, stirring, until heated through, about 2 minutes. Remove from the heat and stir in Parmesan.
Tips & Notes:
Tip: While we love the convenience of canned beans, they tend to be high in sodium. Give them a good rinse before adding to a recipe to rid them of some of their sodium (up to 35 percent) or opt for low-sodium or no-salt-added varieties. (These recipes are analyzed with rinsed, regular canned beans.) Or, if you have the time, cook your own beans from scratch.
Per serving: 195 calories | 6 g fat (2 g sat, 4 g mono) | 5 mg cholesterol | 25 g carbohydrates | 11 g protein | 8 g fiber | 600 mg sodium | 726 mg potassium | Vitamin C (50% daily value) | Folate & Potassium (21% dv) | Calcium, Magnesium & Vitamin A (15% dv)
from Eating Well
https://brenewed.com/wp-content/uploads/2017/03/squash-and-white-beans-saute.jpg
300
450
Bonnie Schnautz
https://brenewed.com/wp-content/uploads/2013/07/brewnewed-new-logo.png
Bonnie Schnautz
2009-12-07 21:01:35
2013-06-19 15:07:01
Summer Squash and White Beans Saute