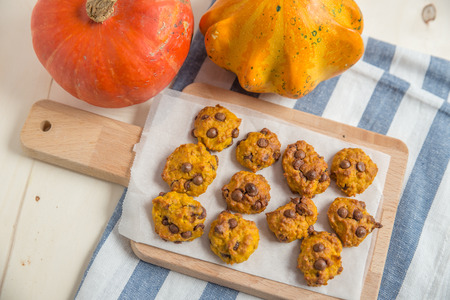 Pumpkin Chocolate Chip Cookies
The holidays are just around the corner and that makes eating healthy even more difficult. You don't have to skip yummy holiday treats though! When your sweet tooth demands a festive treat, or when you need to take a dish to a holiday get together, consider making my my favorite dessert recipe; Pumpkin Chocolate Chip Cookies.
Not only are these a healthier dessert for holidays but they are also a delicious too!
Pumpkin Chocolate Chip Cookies
Note: All ingredients used are organic if available.
3/4 cup unsweetened applesauce
1/2 cup cane sugar or agave
2 eggs
1 (14 ounce) can pumpkin puree
½ cup coconut oil
2 teaspoon rice or almond milk
2 teaspoon vanilla
1 12-oz package semi-sweet chocolate or carob chips
2 teaspoon baking soda
4 teaspoons baking powder
4 cups gluten-free flour
2 teaspoon cinnamon
1 teaspoon pumpkin pie spice (optional)
Directions:
Preheat oven to 375 degrees.
In a large mixing bowl, stir together applesauce, sugar, eggs, pumpkin, milk, oil and vanilla until well mixed. Stir in chocolate chips.
In a smaller bowl, stir together baking soda, baking powder, flour, cinnamon, and pumpkin pie spice.
Add dry ingredients to wet, and stir until well mixed.
Drop by heaping, rounded tablespoons onto ungreased baking sheet. Cookies do not bake larger—they bake to the size you make the dollop. Bake for 10-15 minutes (my oven only takes 10 minutes). Let cool on baking sheet for several minutes before transferring to a cooling rack.
https://brenewed.com/wp-content/uploads/2017/03/Pumpkin-chocolate-chip-cookies.jpg
300
450
Bonnie Schnautz
https://brenewed.com/wp-content/uploads/2013/07/brewnewed-new-logo.png
Bonnie Schnautz
2010-11-16 17:56:59
2017-03-31 00:38:15
Pumpkin Chocolate Chip Cookies