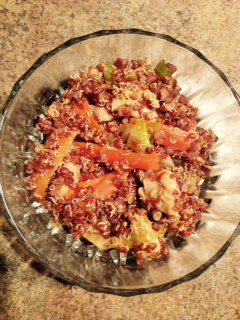 My son made this for me on Mother's Day which was a wonderful gift! For a meatless version, you could easily substitute tofu, tempeh or just omit the chicken as it would still be delicious.  Serve the salad room temperature or chilled.
As always, be sure the ingredients are organic, or grown without pesticides and nonGMO.
1/2 cup of diced celery
3/4 cup of grated carrot
3/4 cup shredded cabbage
2 tsp minced garlic
3 cups of cooked quinoa
1 1/3 c cooked and diced organic chicken
1/4 cup diced green onion
1/4 c Buffalo wing sauce
1/2 T lemon juice
1/2 tsp sea salt (pink Himalayan is my favorite)
1/3 cup olive oil
In a large skillet, over medium heat, cook celery and carrots for 5 minutes then add garlic. Remove from heat and place in a large mixing bowl. Add cooked quinoa, chicken, cabbage, green onions, salt and stir. In a separate bowl combine olive oil, hot sauce and lemon juice. Pour dressing over salad and mix.
https://brenewed.com/wp-content/uploads/2015/05/FullSizeRender-16.jpg
320
240
Bonnie Schnautz
https://brenewed.com/wp-content/uploads/2013/07/brewnewed-new-logo.png
Bonnie Schnautz
2015-05-13 21:25:29
2017-03-31 01:06:43
Buffalo Chicken Quinoa Salad