They steal our hearts with their unconditional love.  You can leave the house for five minutes and they greet you with such excitement that you'd think you had been away for days, weeks or months. They create habits and lifestyle that we condone or become enslaved to.  I'm not referring to our children; however, they could fall into this same category. I am referring to our four-legged children.
Beau is our four-legged child/twelve-year-old boxer. Beau came into our lives when my son was 10 years old.  He and my husband wanted a dog and I swore we wouldn't have one of those little creatures in my home! (Never, say never!) However, I really felt it was important for a "boy to have a dog" as much as I despised the thought of a dog in my home.  I remember telling a friend that we had an indoor dog she exclaimed, "You have a dog in your home?!" as it was completely out of character for me.
It all started when a family in Kentucky advertised a litter of pups and we went to "look".  We were on the floor checking out all the pups when Beau walked over and curled up in my lap and went to sleep. It was done.  I lost the battle.  Beau reached out and grabbed my heart at that moment and 12 years later he still owns it.
We brought him home and since this was my son's pet, I'd place Beau in bed with him so they could bond.  However, Beau would always find his way back to our bedroom.  I'm not sure why this was (or maybe I do)!  Was it because I carried the dog around with me constantly like he didn't have legs?  Or, I would take him for a walk and end up carrying him because he'd get tired.  My husband tells everyone the story that the dog's feet never hit the ground the first nine months of his life.  Sadly, that is partially true.
I remember "walking" him one day carrying him like a baby on his back, which he was perfectly content with.  One of my neighbors thought he was hurt or sick and asked me what was wrong.  I told him that "he was just tired of walking" so I had to carry him.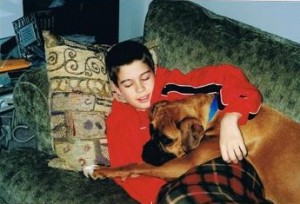 One thing we noticed about Beau when we brought him home the first day was that he had unusually large feet especially for a boxer.  Well, Beau grew into those feet and peaked at around 80 pounds.  Therefore, sleeping with us in bed wasn't as cute as it was in the beginning.  So we did the most humane thing possible, we replaced our queen size bed with a king.  However, no matter how big the bed was, Beau insisted on sleeping between us and sleeping on a body part.  He like laying on our legs and many nights we would wake up with partially paralyzed extremities!
Well, those fond memories are gone as Beau is no longer strong enough to jump up in bed.  For a while we would help him up in bed but realized this wasn't in the best interest for any of  us.  After a few heartbreaking and failed attempts, we purchased him his own dog bed, which we placed next to ours.  We didn't know how he would adjust after 11 years but I think he realized it was time.
Beau was diagnosed with a mast cell tumor when he was around 5 years old. We revamped his diet, supplements and lifestyle to the same protocol I would use for my cancer clients.  He did exceptionally well up until the last few months.  We recently learned the cancer is back and this time it is a nasal tumor.  Boxers have an extremely high rate of cancer and typically don't survive much past eight years so we knew we might expect a return one-day.  However, living this much longer than average, we feel extremely blessed.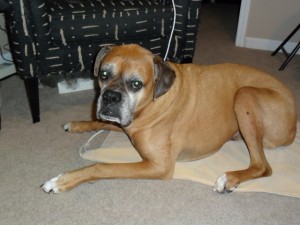 Obviously with our commitment to holistic approaches, Beau is receiving mass quantities of herbs, essential oils and the best foods. He eats a blend of raw and cooked meats (organic/clean of course) along with raw goats milk. I'm also utilizing infrared technology on him.
The hardest part is seeing the changes in him.  He no longer runs to greet us when we come home.  He may lift his head off "his" chair or bed but the good ole days off his energetic puppiness is gone.  His appetite surprisingly is still good.  I am grateful as Beau and I have been drinking green smoothies together for years and he eats most all other whole, clean, organic foods that are in our home.  Yes, Beau eats better than 90% of most Americans.
We are taking one day at a time and staying focused on enjoying the moments we have left and thank God for bringing the once bouncing (and large) bundle of joy into our lives. Animals teach us so many lessons in life and Beau has taught me more than I could mention.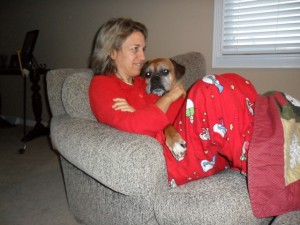 My son left home years ago and is now in the military.  What started out as a boy and his dog developed into a mom and her dog.  I'm so grateful as he's taught me so many lessons about life and unconditional love.  He has also brought joy and love to many of my clients.
If you've had a special pet in your life, I'd love to hear about it in the comments below.
To read part 4 of the Beau Series: All Dogs Go to Heaven: Goodbye Sweet Beau, click here.
To read part 5 of the Beau Series: 42,038 Memories: Ode to our Beau - Part III of Beau's journey, click here.
https://brenewed.com/wp-content/uploads/2013/07/brewnewed-new-logo.png
0
0
Bonnie Schnautz
https://brenewed.com/wp-content/uploads/2013/07/brewnewed-new-logo.png
Bonnie Schnautz
2012-12-03 09:08:38
2015-11-10 12:57:58
A Mom and Her Dog - Part I of Beau's Journey