A big challenge for everyone is eating healthy while traveling and since the holidays are upon us, I thought it would be a perfect time to share some of my tips.  For most of us, the holiday season comes with a mixture of emotions, both negative and positive.  It's a stressful time of year: holiday traffic, over-crowded stores, last minute shopping, family drama... people fall back into old habits. You might think "there are no healthy options available", "not enough time", or "my emotions got the best of me", but these are all excuses and not the truth.  Well, I have good news!  With my three simple rules and tips for healthy traveling; you will no longer have any excuses!
Rule # 1: Pack your food first!
While it may seem like perfectly coordinated outfits, shoes and accessories are a priority, your health is most important.  Food should be planned and packed first, then worry about the other things later. Pack it in your suitcase or your carry-on, if flying.
Helpful Tip: If you are flying, don't forget about the current weight limit regulations. I always make sure to weigh my bag at the house before leaving to ensure I am under the weight limit and I am not penalized at airport.
Rule # 2: Stay Hydrated!
Our bodies need water to function! Mild dehydration can cause constipation, brain fog, headaches, and muscle pain.
Helpful Tip: Pack a cooler of water and bring refills for the road to avoid stopping at the gas station where you'll be faced with unhealthy choices.  Make sure it is pure, filtered water!  If you are flying, ask for water. Most airlines will have filtered water available.
Rule #3: Plan ahead!
If you and your family go to restaurants over the holidays, do a local search on Google so you will know which restaurants offer whole, clean food options. I call ahead and ask about vegetarian or wild seafood options.  If you are cooking Christmas dinner for everyone, have your whole, clean food recipes picked out and organized.
Here are some of my tips for your meals and snacks: 
Breakfast:
Oatmeal is easy to prepare in hotel rooms.  I bring oats and let them soak overnight and then they are ready to eat at room temperature in the morning. You can soak oats in purified water or pack the individual size servings of plant-based milk such as organic rice or coconut milk. Be sure to pack a few plastic utensils with you as well.  Most hotels provide in-room glasses or coffee cups which make perfect oatmeal bowls. Note: I do not use a microwave to heat any of my food as it destroys vital enzymes.
Another one of my breakfast favorites is a plant-based protein shake.  My favorite is Juice Plus Complete--the healthiest fast food ever.  You can mix it with water or plant-based milk in a shaker cup.  You can also pack a portable mixing device like a Nutribullet or a Ninja Mini.  I have both and find they are great for traveling.
Helpful Tip:  If I fly, I bring my Ninja Mini or Nutribullet.  The Ninja is a few pounds lighter, so I base my decision on which device to bring by how much weight I have left in my suitcase.  If I am driving, I take my Vitamix, as it is the quickest and most powerful of the three.
I like to pack "in-season" greens, such as; Swiss chard, kale mixed greens or spinach to add to my shakes (assuming you are taking an electronic unit).
Snacks:
In-season fresh or dried fruit is great option.  For example: Bananas, apples, oranges, figs, dates, and dried veggies/fruits.  Raw carrots, celery, broccoli and cauliflower work great too. Avocados are usually a favorite snack as well.  Be sure to pack a knife.
Beef jerky bites are a perfect source of protein. Make sure you purchase jerky that is preservative free, especially nitrite-free, hormone and antibiotic free.  I discovered buffalo cranberry bites, which are quite unique.  I'm not a huge jerky fan so these seemed a bit more palatable than standard whole jerky.
Raw nuts and seeds work well, but be sure to limit your intake, as they are difficult for most to digest and can cause constipation. I always take an enzyme when I eat nuts or seeds and ensure that they are pre-soaked when possible.
Raw food bars from your local health food store are great.  Raw Revolution is one of my favorites and they have a number of flavors to fit your mood and taste preference. You can also make your own bars. My favorite is Chocolate Nut Butter Rice Treats.
Helpful Tip: If you tend to have a sweet tooth, pack several options such as organic granola bars, organic chocolates, or Juice Plus chewables.  Unlike sweets or candy bars offered at gas stations and airports, these healthy choices will fulfill your sweet cravings and are better for you.
Some of my favorite sweets are dark organic chocolate, preferably over 70% cocoa, and Juice Plus Chewables.  Juice Plus chewables contain 25 fruits, veggies, grains, herbs and berries and taste delicious! You can fulfill a sweet craving and get additional phytonutrients from plants.
Dinner:
When at a conference or on vacation, I often find myself dining out.  I ask the concierge to recommend a vegan, farm-to-table, or organic restaurant.  If the concierge is not familiar with any of these types of restaurants, I turn to my good friend "Google" and search for vegan, farm-to-table or organic restaurant options in the area. CAUTION: Many times "vegan" in a restaurant means pasta with a few veggies, which for me, is not an option.  Pasta is a filler food (low nutrient composition) and almost always contains gluten, which I avoid.
Seafood is usually a safer option when dining out, assuming it is wild-caught and not farm-raised.  How do you know if it is wild-caught or farm-raised? Simply, ask the server and if the server doesn't know, ask them to ask the Manager or chef.  And if the fish comes covered in a sauce, ask waiter to bring it on the side; so you can decide and control how much you eat.
Vegetarian options like salads with nuts, seeds or beans are great but usually hard to find.  If they provide vegetarian options, DON'T ASSUME any of it is healthy or safe. Ask how it is prepared, what seasonings are used (could be MSG laden) and which oils are used to cook.
Helpful Tip: One trick I use, whether I am on the road or at home, I eat "my appetizer" before I go. Eating something small before I leave helps me avoid the temptation to order appetizers.   Most appetizers are loaded with fat they are cooked in or laden with heavy sauces or cheeses, which are popular additions to appetizers.  Therefore; most appetizers = lots of fat and toxins with little nutritional value.
Some people are afraid to ask and feel they may cause a scene or inconvenience the server.  DON'T BE AFRAID. Your health should be your # 1 priority and you shouldn't let some simple questions get in the way.
I hope you use my healthy eating travel tips during this holiday season and no longer have to worry about falling back into your old unhealthy habits.  Planning and packing ahead will help you resist all the unhealthy temptations and remain healthy and balanced.  I hope you have a happy, healthy holiday season!
Healthy Food Ideas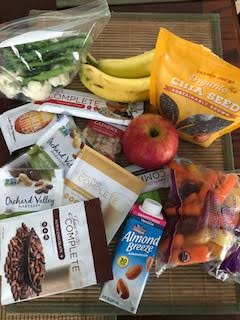 https://brenewed.com/wp-content/uploads/2013/07/brewnewed-new-logo.png
0
0
Bonnie Schnautz
https://brenewed.com/wp-content/uploads/2013/07/brewnewed-new-logo.png
Bonnie Schnautz
2013-12-19 15:28:14
2017-04-26 12:47:55
How to Eat Healthy While Traveling