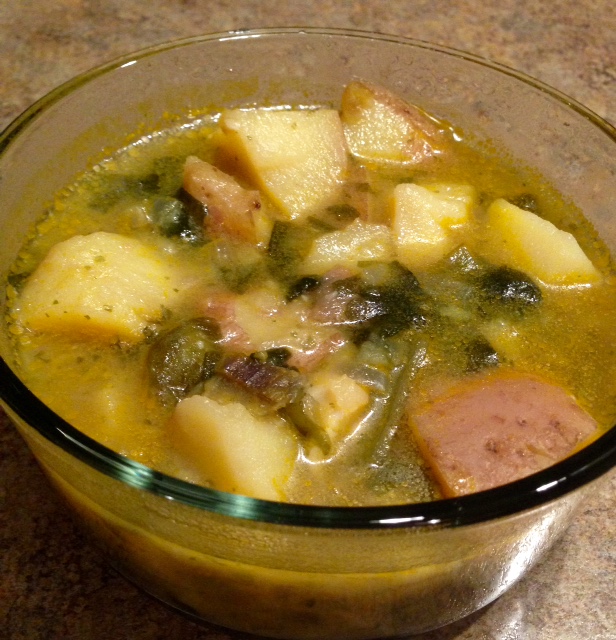 I've never been a fan of milk-based soups so wanted to create a broth-based version of potato soup. Because the only way I like warm milk (and I only drink plant-based) is swimming in cocoa! On a cold snowy day like today, this soup was simple to make and really warms you inside.  Most of the ingredients you should have available besides the wakame which is optional. I love to add sea vegetables for the salty flavor and nutritional benefits such as iodine, magnesium, calcium, iron, Vitamin D and more.
6-8 cloves of organic garlic, (I chopped the larger cloves but left the smaller ones whole)
5-6 large organic red potatoes cleaned and chopped into small bite size pieces
1/2  red onion, chopped
6 cups low sodium vegetable broth
Himalayan or celtic sea salt and ground pepper
2-3 strips of wakame or alari sea vegetables, break into one inch pieces (optional)
parsley for garnishing
Parcook the potatoes in boiling water for about 10 minutes.
Cook the onion and garlic in a saute pan until caramelized (I used red palm oil)
Bring the vegetable broth to the boil and reduce to a simmer.
Drain the potatoes and add to broth along with the onion and garlic
Once potatoes are soft, add the wakame/alaria pieces.
I like to serve this soup with raw veggies and hummus and/or a piece of Ezekiel bread toast.
https://brenewed.com/wp-content/uploads/2015/02/FullSizeRender-14.jpg
640
616
Bonnie Schnautz
https://brenewed.com/wp-content/uploads/2013/07/brewnewed-new-logo.png
Bonnie Schnautz
2015-02-16 21:05:13
2017-03-31 01:05:54
Garlic Potato Soup (vegan)