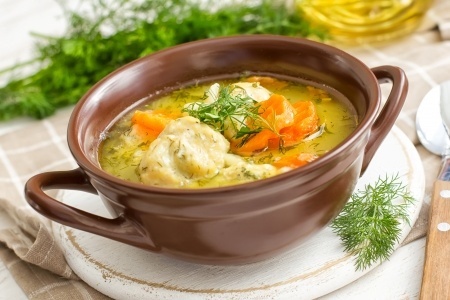 Comforting Chicken Soup
Serves  4
Prepare the Broth:
1 free-range, organic chicken
3 large organic carrots, cut into chunks
2 large organic celery stalks, cut into chunks
1 large organic yellow onion, quartered
1 clove of organic garlic, diced
2-3 teaspoons Celtic or Himalayan sea salt
1 ½ -2 teaspoons whole peppercorns
Place the chicken in a large stock pot with a good amount of purified, cold water (about 8-10 cups).  Add in the rest of the ingredients and bring to a rolling boil.  Reduce to a simmer and watch for foam to rise. Skim off as needed. Simmer until the chicken is cooked through, about 30 minutes. After the chicken is cooked, remove it from the stock pot and allow it to cool in a large bowl.  Strain the broth through a colander and return the broth to the stock pot. Discard the boiled vegetables.
Prepare the Soup:
4 large organic carrots sliced thin
3 large organic celery stalks diced into small pieces
(optional) 1 diced organic yellow onion
1 clove organic garlic, crushed
Shred chicken from carcass
Salt and pepper to taste
Place the sliced and diced vegetables back into the broth that was returned to the stock pot. Simmer for 10-15 minutes. Add shredded chicken back into the broth. Salt and pepper to taste.
When warmed through, decrease or turn off heat. Ladle into bowls and serve.
Quick alternative:
Don't let a tight schedule keep you from making this comfort food. If you have organic packaged broth and chicken breasts, you can skip the broth making stage and just put together a healthy, quick, and comforting soup to help you and your family weather the cold and flu season.
https://brenewed.com/wp-content/uploads/2014/09/Chicken-Soup.jpg
300
450
Bonnie Schnautz
https://brenewed.com/wp-content/uploads/2013/07/brewnewed-new-logo.png
Bonnie Schnautz
2014-09-25 13:56:33
2017-03-31 01:04:24
Comforting Chicken Soup