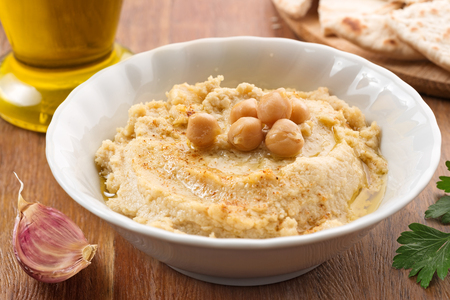 Roasted Garlic Hummus
Roasted Garlic Hummus is my absolute favorite recipe because it is easy and tastes great!  If you are in a hurry, you can use raw garlic but roasting has a unique flavor.
It is a perfect source of protein and great as a snack with veggies or spread on a whole grain pita with veggies for a healthy wrap.  Enjoy!
Roast Garlic:
1 large head garlic
½ c low sodium vegetable broth (optional)
2 Tbls Butter or coconut oil
½ tsp dried thyme (optional)
Remove outer peel from garlic and cut tops off of garlic. Place garlic in baking dish, dab with butter or pour coconut oil over. Sprinkle thyme--optional. Bake at 350 for 30-45 minutes.
Hummus
2 cups of cooked chickpeas or 1-14 oz can of chickpeas or garbanzo beans, drained and rinsed
2-3 Tbls of Tahini (sesame paste)
Juice of 1 lemon
2-4 Tbls Extra Virgin Olive Oil
Himalyan Pink or other natural sea salt to taste
¾ tsp ground cumin
¼ tsp cayenne pepper
¼ tsp coriander
¼ c. warm water (more or less depending on consistency)
Let garlic cool and squeeze the soft garlic out into food processor, add chick peas and all other ingredients and blend until smooth.
Mix in blender or Bullet and add 1-2 extra TBLS of EVOO if needed. Garnish with parsley, cayenne or paprika.
Eat within 2 days or freeze. Serve with whole grain crackers, raw veggies.
P.S.  I also make using 2-3 cloves of raw garlic instead of roasted for additional nutritional value.
https://brenewed.com/wp-content/uploads/2017/03/Roasted-garlic-hummus.jpg
300
450
Bonnie Schnautz
https://brenewed.com/wp-content/uploads/2013/07/brewnewed-new-logo.png
Bonnie Schnautz
2010-08-26 01:02:10
2017-03-31 00:36:23
Roasted Garlic Hummus