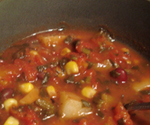 Jill's Lazy Sunday Stew
This stew is quick and easy. Serve it with some garlic bread and a salad for a great meal. The chili powder in this recipe gives the stew the kick it needs to keep you warm on those particularly cold days, while the beans provide protein, calcium, and fiber to keep you feeling fuller, for a longer period of time. Makes 8 servings
Ingredients: Choose ORGANIC whenever possible!
1 30-ounce bag frozen hash brown potatoes
2 14-ounce cans tomato sauce or diced tomatoes (if you prefer chunky soups)
1 1/2 cups water
2 15-ounce cans kidney beans, drained and rinsed
1 15-ounce can black beans, drained and rinsed (optional)
1 cup frozen corn
5 ounces (about 1 cup) frozen spinach
3 tablespoons chili powder
2 tablespoons ground cumin
1 tablespoon garlic powder
salt, to taste (optional)
1 tablespoon vinegar (optional)
3 or 4 green onions, chopped (optional)
Directions:
Combine tomato sauce or diced tomatoes, potatoes, and water. Cover the pot and simmer at medium-high heat until potatoes are tender, about 20 minutes.
Add the beans, frozen corn and spinach, and spices. Turn down the heat to a low setting and simmer until all flavors are blended.
Serve the soup garnished with chopped green onions.
Nutrition Information:
Per serving (1/8 of recipe): calories: 282 | fat: 1.7 g | saturated fat: 0.3 g | calories from fat: 5.2% | cholesterol: 0 mg | protein: 11.9 g | carbohydrate: 59 g | sugar: 7.1 g | fiber: 11.3 g | sodium: 687 mg| calcium: 93 mg | iron: 4.8 mg | vitamin C: 21.9 mg | beta-carotene: 1549 mcg | vitamin E: 2.8 mg
Recipe from Jill Ovnik. Jill is a Food for Life instructor for The Cancer Project who believes that education and exposure to the right foods can improve health and change lives. This is why she is so passionate about healthy cuisine and has taught the Food is Elementary curriculum. Jill is the founder and president of the website Vegan Gal (www.vegan-gal.com). She is also the writer and producer of the DVD Change Your Food, Change Your Life. Jill received her certification from the Food Studies Institute.
https://brenewed.com/wp-content/uploads/2012/09/lazy0stew.jpeg
125
150
Bonnie Schnautz
https://brenewed.com/wp-content/uploads/2013/07/brewnewed-new-logo.png
Bonnie Schnautz
2012-08-31 01:20:30
2017-03-31 00:56:23
Jill's Lazy Sunday Stew