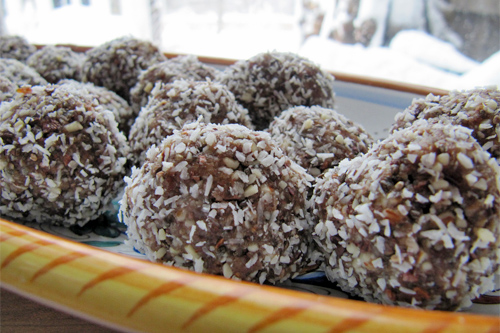 Coconut Cacao Snowballs
These make a wonderful sweet treat for those needing an energy boost or a sweet fix plus they are so good for you. The benefits of this snacks powerhouse ingredients are featured below.
Ingredients:
 1 cup raw almonds (soaked preferably)

12 pitted medjool dates

1/4 cup cacao nibs

 1 tablespoon coconut oil

1/4 cup +2 tablespoons shredded unsweetened coconut

1 teaspoon pure vanilla extract

1/8 cup Chia seeds
Preparation:
Set aside the 2 tablespoons shredded coconut in a small plate. Place all ingredients into food processor or Vitamix and blend for 1 to 2 min., until the mixture becomes similar to very fine sticky pebbles.
About a teaspoon at a time, roll into 1 inch balls and dipped in shredded coconut to lightly cover entire ball.
Enjoy
Serving Size: 1 ball | Calories: 124 | Total Fat: 7 g | Saturated Fat: 2 g | Cholesterol: 0 mg | Sodium: 1 mg | Total Carbohydrate: 15 g | Dietary Fiber: 3 g | Sugars: 11 g | Protein: 3 g
Here is why these delicious snacks are a nutritional powerhouse:
Almonds are a nutrient-dense food in the nut family, they are a rich source of fiber and protein, omega-3 and omega-6 essential fatty acids, calcium, phosphorus, iron, magnesium, zinc, copper, selenium, and niacin, and of course, vitamin E, an important antioxidant that helps to neutralize free radicals.  Note:  I always recommend you soak your almonds in filtered water for about 8-10 hours, rinse and drain before consumption.
Dates are a great source of fiber and protein, dates are also rich in mood and energy boosting B-vitamins, iron, heart-healthy potassium, and thanks to their naturally occurring sugars, provide a great energy boost. Dates also contain antioxidants known as tannins, which have anti-infective and anti-inflammatory properties.
Cacao Nibs are a good for you & delicious chocolate because it is nutrient and antioxidant-dense. Cacao contains neurotransmitters that are associated with a healthy mood: serotonin, dopamine, and phenylethylamine. Cacao has also been linked to improved cardiovascular health, containing polyphenols – the same beneficial antioxidants found in red wine. The key to remember here is cacao (the raw completely natural and unprocessed form of chocolate) is the good stuff – not the processed bar that you're buying at the store.
Coconut Oil is always highly recommended by me as it's a rich source of healthy fats that has been linked to enhanced  metabolism, immune system, and blood sugar stabilization, amongst other things. I've spoken at length about my love affair with coconut oil. You can get yourself some and learn more about how great it is here.
Unsweetened Shredded Coconut is just as great as coconut oil because coconut oil is a by product of coconut meat (which is what the shreds are).
Chia Seeds are another favorite of mine, they are a great source of fiber, calcium, protein, omega-3 fatty acids and antioxidants. Plus, they aid in retaining hydration. I've written about chia seeds before, you can read more about them here.
https://brenewed.com/wp-content/uploads/2013/02/Coconut_Cacao_Snowballs.jpg
333
500
Bonnie Schnautz
https://brenewed.com/wp-content/uploads/2013/07/brewnewed-new-logo.png
Bonnie Schnautz
2013-02-27 12:43:05
2017-03-31 00:58:01
Coconut Cacao Snowballs