Essential oil diffusers are an integral part of the holistic home or office. I have used diffusers for years and have one in almost every room of my home and office. A diffuser will add mist and/or essential oil molecules into the air to serve your daily emotional and physical needs.  For example, if you require focus on a task, you can use Rosemary Oil, Peppermint Oil or a blend of oils such as Focus Oil Blend. Eucalyptus oil is beneficial for respiratory support and Melaleuca is a purifying oil. Lavender, Roman Chamomile, Bergamot as well as Calming Aromatherapy Blend are wonderful essential oils to calm emotions. Diffusers are a valuable asset to to any home or office including salons, spas, classrooms (keeps kids calm and focused) as well as medical or therapy offices.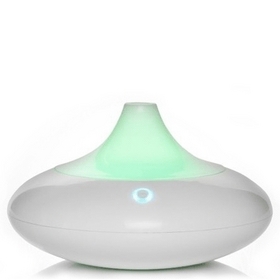 A diffuser can create a peaceful and calming haven anywhere and adds a bit of spa luxury to everyday living. Costs of a diffuser will range from $45 to over $150.  I like the NYR Essential Oil Diffuser for its many benefits and reasonable cost of around $55.
Benefits to look for in a diffuser:
Auto shut-off
Easy to use and maintain
Low energy consumption
LED color lights with no light option
How to Use:
Add 3-5 drops of your desired essential oil to the water (filtered water is best) in the tank. It is recommended that you empty and rinse the water tank and wipe it dry with a clean cloth every time you use a different type of essential oil.
The NYR Organic diffuser has color changing mood lighting, which moves through a rainbow of colors, it can also be set on a single color of choice. There is also a no light option, to continue soothing while you sleep.
The diffuser dimensions are 7.1" x 4.2". It also acts as a mini-humidifier, creating a cool, scented and relaxing mist which will spread the oil fragrances quickly and effectively.
I truly believe this is the perfect gift for the person who has everything as you can place one in every room and add to an office or vacation home.
https://brenewed.com/wp-content/uploads/2013/07/brewnewed-new-logo.png
0
0
Bonnie Schnautz
https://brenewed.com/wp-content/uploads/2013/07/brewnewed-new-logo.png
Bonnie Schnautz
2014-12-01 10:49:58
2016-01-18 15:04:03
Benefits of an Aromatherapy Essential Oil Diffuser